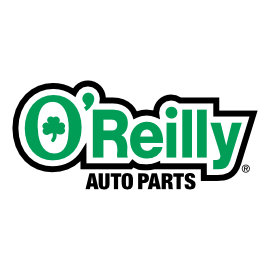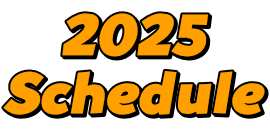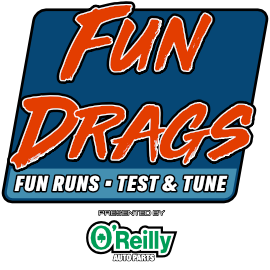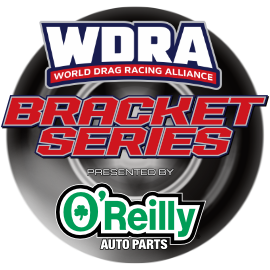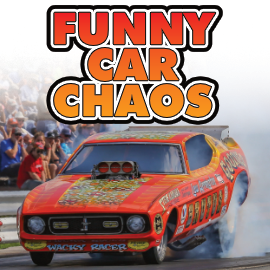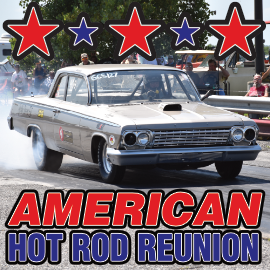 Drag racing is a dangerous sport that can result in serious injury or death. Participation in all aspects of the sport is voluntary. The ultimate responsibility for participant and vehicle lies with the particpant, vehicle owner, driver and crew members.

Authority
Any condition considered to be unsafe by Mo-Kan Dragway officials will be adequate grounds for barring or withdrawing a vehicle from participation in any event, until the fault has been remedied to the satisfaction of the tech inspector.

Batteries
All wet cell batteries may NOT be re-located into the driver or passenger compartment. Batteries relocated to the trunk or rear of a vehicle must be isolated from the driver and must be securely mounted. Plastic battery hold down straps are not permitted. Minimum bolt size, 3/8 steel.

Drinking by Driver
Driver observed by track officials to be consuming any amount of alcohol while still in competition will be disqualified from the event.

Driveline
Cars with slicks must have a drive shaft loop located within six inches of the front u-joint.

Firewall
Must have full firewall to isolate driver from engine.

Floor
Floor required to isolate driver from track and tires.

Flywheel/Clutch
Engines with manual transmissions subject to have a flywheel scatter shield. Recommended on all manual transmissions.

Ground Clearance
All vehicles must have three inches of ground clearance as measured at the starting line, in either lane, with the car in the staged position.

Helmet
Helmets required on cars running 14.00 or quicker on the 1/4 mile. or 8.50 or quicker on the 1/8 mile. Snell 80 or newer recommended.

Fuel System
Fuel tanks and filler necks must be vented to outside of vehicle. Fuel tanks and lines must be located outside drivers compartment.

Liquid Overflow
Catch-can required on all radiators. One pint minimum capacity.

Master Cutoff
Mandatory when battery is relocated. An electrical power cutoff switch (one only) must be installed on the rearmost part of the vehicle and be easily accessible from outside the car body. This cut off switch must be connected to the positive side of the electrical system and must stop all electrical functions including magneto ignition. The off position must be clearly labeled with the word "OFF." If the switch is "push/pull" type, "push" must be the action for shutting off the electrical system.

Neutral Safety Switch
All vehicles with an automatic transmission must be equipped with a functioning neutral safety switch that prevents the car from being started in a forward or reverse gear.


Protective Clothing
Fire jackets recommended in all classes 11.00 and faster. Front engine dragsters, altereds and closed cars with non-stock floor pans and/or firewalls must have long pants and gloves. Arm restraints recommended in all open body cars. Neck collar suggested for anyone wearing helmet, required at 8.99 or quicker 1/4 mile or 5.75 1/8th mile.

Road Worthiness
Should a vehicle prove to be faulty or handle poorly during the event, the Event Director or Technical Committee shall have the right and responsibility of removing the car from competition until the necessary repairs or adjustments to make the vehicle road worthy have been made and approved.

Roll Bar/Roll Cage
Roll bar required on vehicles running 11.49 or quicker 1/4 mile or 7.50 1/8 mile. Roll bar is recommended at 11.99 or quicker 1/4 mile. Roll cage required on vehicles running 9.99 or quicker 1/4 mile or 6.40 1/8 mile. A roll cage is mandatory on any entry that exceeds 135 mph.

Convertibles: A roll cage is mandatory on all convertibles running 10.99 or quicker 1/4 or 6.99 or quicker 1/8 mile. A minimum of a 6 point roll bar is mandatory on all convertibles running 11.00 to 13.49 1/4 mile and 8.25 or quicker 1/8 mile.

Seat Belt/Harness
Seat belt required in all cars. Five point harness required in any vehicle running 11.49 or quicker 1/4 mile or 7.50 1/8 mile. Five point harness recommended at 11.99 or quicker 1/4 mile. On dragsters, an abrasion plate is mandatory where seat belts are wrapped around the frame and would be exposed to rubbing on the track surface should a wheel come off.

Transmission Cooler Lines
Neoprene fuel line not allowed on trans coolers. Steel line and/or braided hose is highly recommended. A minimum of two automotive type clamps on all high pressure rubber line at splice or junction is recommended.

Throttle Linkage
It is recommended that non-stock throttle linkage have two positive return springs. Upon request, it must be demonstrated to tech inspector that modified or non-stock linkage will work smoothly, with no binding or sticking.

Tires
Tires need to be free from defects, with no cords showing. Studded snow tires, temporary spares, space saver spares, farm implement or trailer tires are prohibited.